«Δεν θα σας επιτρέψουμε να ξεπλύνετε τα εγκλήματά σας μέσω της τέχνης»
140 καλλιτέχνες από όλο τον κόσμο ζητούν από την EBU να μη γίνει η Eurovision στο Ισραήλ το 2019.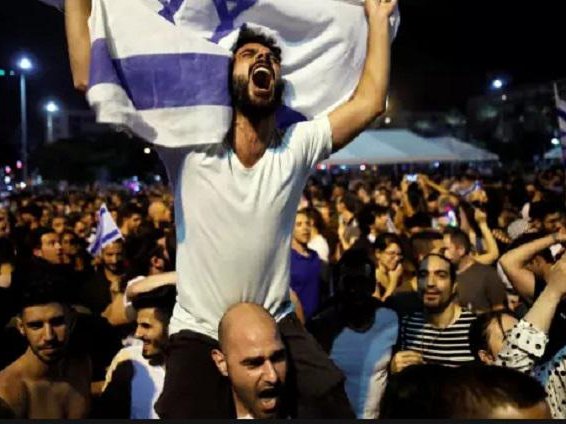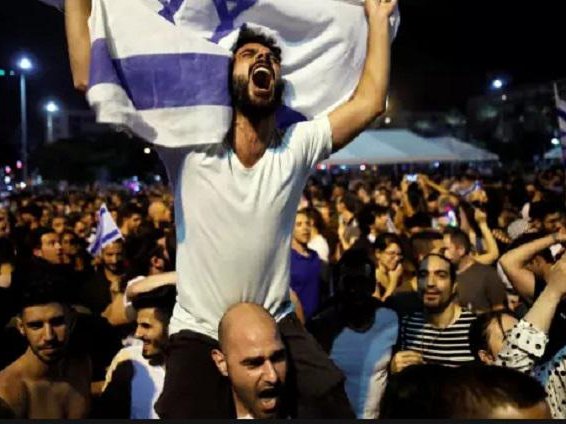 Περισσότεροι από 140 καλλιτέχνες από την Ευρώπη και εκτός αυτής δημοσίευσαν επιστολή στον Guardian για να υποστηρίξουν το κάλεσμα παλαιστινίων καλλιτεχνών να μποϊκοτάρουν τον Διαγωνισμό Τραγουδιού της Eurovision εάν πραγματοποιηθεί στο Ισραήλ το επόμενο έτος.
Ανάμεσά τους είναι οι Brian Eno, The Knife, Alia Shawkat, Eve Ensler, Wolf Alice, Ken Loach και οσυγγραφέας του Life of Pi, Yann Martel.
Οι καλλιτέχνες που αρνούνται να επιτρέψουν στο Ισραήλ να χρησιμοποιήσει την τέχνη για να ξεπλύνει τις σοβαρές παραβιάσεις των ανθρωπίνων δικαιωμάτων, όλο και αυξάνονται.
Η Ευρωπαϊκή Ένωση Ραδιοτηλεοπτικών Εκπομπών - EBU - θα πρέπει να μεταφέρει την Eurovision 2019 σε άλλη χώρα.




---
Διαβάστε αυτούσια την επιστολή όπως δημοσιεύθηκε στον Guardian.
---


We, the undersigned artists from Europe and beyond, support the heartfelt appeal from Palestinian artists to boycott the Eurovision Song Contest 2019 hosted by Israel. Until Palestinians can enjoy freedom, justice and equal rights, there should be no business-as-usual with the state that is denying them their basic rights.
On 14 May, days after Israel's Eurovision win, the Israeli army killed 62 unarmed Palestinian protesters in Gaza, including six children, and injured hundreds, most with live ammunition. Amnesty International has condemned Israel's shoot-to-kill-or-maim policy and Human Rights Watch described the killings as "unlawful and calculated".
Eurovision 2019 should be boycotted if it is hosted by Israel while it continues its grave, decades-old violations of Palestinian human rights. We understand that the European Broadcasting Union is demanding that Israel finds a "non-divisive" location for the 2019 Eurovision. It should cancel Israel's hosting of the contest altogether and move it to another country with a better human rights record. Injustice divides, while the pursuit of dignity and human rights unites.
L-FRESH The LION, musician, Eurovision 2018 national judge (Australia)

Helen Razer, broadcaster, writer (Australia)

Candy Bowers, actor, writer, theatre director (Australia)

Blak Douglas, artist (Australia)

Nick Seymour, musician, producer (Australia)

DAAN, musician, songwriter (Belgium)

Daan Hugaert, actor (Belgium)

Alain Platel, choreographer, theatre director (Belgium)

Marijke Pinoy, actor (Belgium)

Code Rouge, band (Belgium)

DJ Murdock, DJ (Belgium)

Helmut Lotti, singer (Belgium)

Raymond Van het Groenewoud, musician (Belgium)

Stef Kamil Carlens, musician, composer (Belgium)

Charles Ducal, poet, writer (Belgium)

Fikry El Azzouzi, novelist, playwright (Belgium)

Erik Vlaminck, novelist, playwright (Belgium)

Rachida Lamrabet, writer (Belgium)

Slongs Dievanongs, musician (Belgium)

Chokri Ben Chikha, actor, theatre director (Belgium)

Yann Martel, novelist (Canada)

Karina Willumsen, musician, composer (Denmark)

Kirsten Thorup, novelist, poet (Denmark)

Arne Würgler, musician (Denmark)

Jesper Christensen, actor (Denmark)

Tove Bornhoeft, actor, theatre director (Denmark)

Anne Marie Helger, actor (Denmark)

Tina Enghoff, visual artist (Denmark)

Nassim Al Dogom, musician (Denmark)

Patchanka, band (Denmark)

Raske Penge, songwriter, singer (Denmark)

Oktoberkoret, choir (Denmark)

Nils Vest, film director (Denmark)

Britta Lillesoe, actor (Denmark)

Kaija Kärkinen, singer, Eurovision 1991 finalist (Finland)

Kyösti Laihi, musician, Eurovision 1988 finalist (Finland)

Kimmo Pohjonen, musician (Finland)

Paleface, musician (Finland)

Manuela Bosco, actor, novelist, artist (Finland)

Noora Dadu, actor (Finland)

Pirjo Honkasalo, film-maker (Finland)

Ria Kataja, actor (Finland)

Tommi Korpela, actor (Finland)

Krista Kosonen, actor (Finland)

Elsa Saisio, actor (Finland)

Martti Suosalo, actor, singer (Finland)

Virpi Suutari, film director (Finland)

Aki Kaurismäki, film director, screenwriter (Finland)

Pekka Strang, actor, artistic director (Finland)

HK, singer (France)

Dominique Grange, singer (France)

Imhotep, DJ, producer (France)

Francesca Solleville, singer (France)

Elli Medeiros, singer, actor (France)

Mouss & Hakim, band (France)

Alain Guiraudie, film director, screenwriter (France)

Tardi, comics artist (France)

Gérard Mordillat, novelist, filmmaker (France)

Eyal Sivan, film-maker (France)

Rémo Gary, singer (France)

Dominique Delahaye, novelist, musician (France)

Philippe Delaigue, author, theatre director (France)

Michel Kemper, online newspaper editor-in-chief (France)

Michèle Bernard, singer-songwriter (France)

Gérard Morel, theatre actor, director, singer (France)

Daði Freyr, musician, Eurovision 2017 national selection finalist (Iceland)

Hildur Kristín Stefánsdóttir, musician, Eurovision 2017 national selection finalist (Iceland)

Mike Murphy, broadcaster, eight-time Eurovision commentator (Ireland)

Mary Black, singer (Ireland)

Christy Moore, singer, musician (Ireland)

Charlie McGettigan, musician, songwriter, Eurovision 1994 winner (Ireland)

Mary Coughlan, singer (Ireland)

Luka Bloom, singer (Ireland)

Robert Ballagh, artist, Riverdance set designer (Ireland)

Aviad Albert, musician (Israel)

Michal Sapir, musician, writer (Israel)

Ohal Grietzer, musician (Israel)

Yonatan Shapira, musician (Israel)

Danielle Ravitzki, musician, visual artist (Israel)

David Opp, artist (Israel)

Assalti Frontali, band (Italy)

Radiodervish, band (Italy)

Moni Ovadia, actor, singer, playwright (Italy)

Vauro, journalist, cartoonist (Italy)

Pinko Tomažič Partisan Choir, choir (Italy)

Jorit, street artist (Italy)

Marthe Valle, singer (Norway)

Mari Boine, musician, composer (Norway)

Aslak Heika Hætta Bjørn, singer (Norway)

Nils Petter Molvær, musician, composer (Norway)

Moddi, singer (Norway)

Jørn Simen Øverli, singer (Norway)

Nosizwe, musician, actor (Norway)

Bugge Wesseltoft, musician, composer (Norway)

Lars Klevstrand, musician, composer, actor (Norway)

Trond Ingebretsen, musician (Norway)

José Mário Branco, musician, composer (Portugal)

Francisco Fanhais, singer (Portugal)

Tiago Rodrigues, artistic director, Portuguese national theatre (Portugal)

Patrícia Portela, playwright, author (Portugal)

Chullage, musician (Portugal)

António Pedro Vasconcelos, film director (Portugal)

José Luis Peixoto, novelist (Portugal)

N'toko, musician (Slovenia)

ŽPZ Kombinat, choir (Slovenia)

Lluís Llach, composer, singer-songwriter (Spanish state)

Marinah, singer (Spanish state)

Riot Propaganda, band (Spanish state)

Fermin Muguruza, musician (Spanish state)

Kase.O, musician (Spanish state)

Soweto, band (Spanish state)

Itaca Band, band (Spanish state)

Tremenda Jauría, band (Spanish state)

Teresa Aranguren, journalist (Spanish state)

Julio Perez del Campo, film director (Spanish state)

Nicky Triphook, singer (Spanish state)

Pau Alabajos, singer-songwriter (Spanish state)

Mafalda, band (Spanish state)

Zoo, band (Spanish state)

Smoking Souls, band (Spanish state)

Olof Dreijer, DJ, producer (Sweden)

Karin Dreijer, singer, producer (Sweden)

Dror Feiler, musician, composer (Sweden)

Michel Bühler, singer, playwright, novelist (Switzerland)

Wolf Alice, band (UK)

Carmen Callil, publisher, writer (UK)

Julie Christie, actor (UK)

Caryl Churchill, playwright (UK)

Brian Eno, composer, producer (UK)

AL Kennedy, writer (UK)

Peter Kosminsky, writer, film director (UK)

Paul Laverty, scriptwriter (UK)

Mike Leigh, writer, film and theatre director (UK)

Ken Loach, film director (UK)

Alexei Sayle, writer, comedian (UK)

Roger Waters, musician (UK)

Penny Woolcock, film-maker, opera director (UK)

Leon Rosselson, songwriter (UK)

Sabrina Mahfouz, writer, poet (UK)

Eve Ensler, playwright (US)

Alia Shawkat, actor (US)